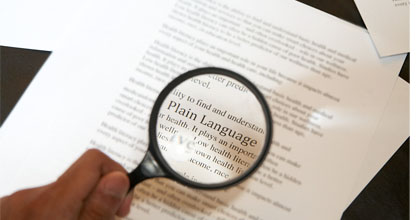 In an age of overwhelming amounts of information (and misinformation), clear and simple communication is king.
Help your patients and clients manage their own health with easy-to-read and easy-to-use written materials and messaging. Whether you are creating a website, designing a pamphlet, or just want to write up instructions for commonly used medications, Say Ah! can help.
Our expertise is in making written communication accessible to the broadest possible audiences, including those with low literacy and education levels, learning and reading differences, and vision and cognition impairments — not to mention all the people who are incredibly busy or used to getting their information in tweets and soundbites.
Say Ah!'s founders are writers with over 20 years of experience crafting user-friendly content, and can help you hone your message and make it understandable and readable. We offer two types of services, one to consult on your materials and the other to work with you, your staff or your organization to learn how to create easy-to-read and easy-to-use written and/or digitally posted information.
Contact us at services@say-ah.org to talk with us about the needs of your organization or company, and to learn more about our services.